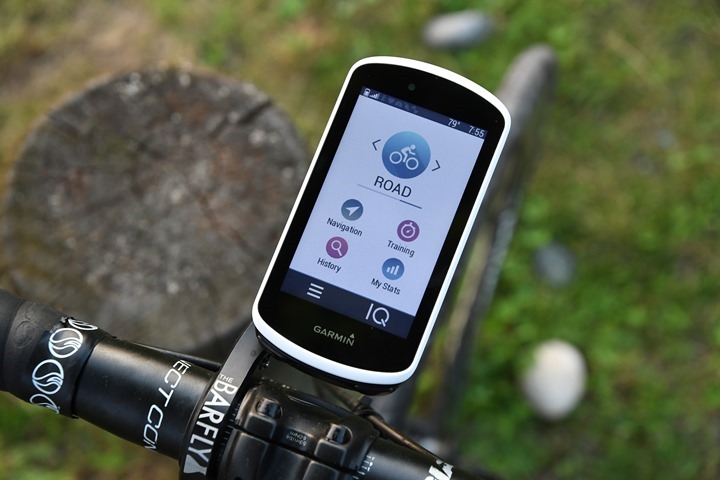 After over three years,
GARMIN EDGE
has updated its flagship GPS navigation computer with a new edition – the Edge 1030. This new large-screen style unit features a longer battery life along with a new external battery pack option. Not only that, it adds in Bluetooth Smart sensor support, FirstBeat Training load metrics, Rider to Rider messaging, and more.
I've been riding with the unit for quite a while now and have a pretty good grasp on all these features, so much that it's definitely in-depth review time. Also, the unit starts shipping today (yes, really). The question is – is the new Edge 1030 worth the price? And more importantly, how well are all these new features implemented? I set out to answer these questions.
As always, once I'm done with this media loaner unit I'll send it back to the Garmin folks in Olathe, Kansas. After which I'll head out and get my own unit via normal retail channels. If you found the post useful, feel free to hit up the links at the bottom – I appreciate it.
Let's dive right into things with what's new on the Edge 1030. And what you'll see is that in many cases it's more of an evolutionary upgrade than it is a revolutionary one. Which isn't to say that's bad – in fact, in many ways that's good, as it minimizes the amount of issues you see at the outset. In any case, in usual DCR style, bulleted list here we come:
– Totally revamped main user dashboard: This is pretty apparent from pretty much any photo you see here.
– New FirstBeat Recovery and Training Status metrics: We saw
these
introduced on
FR935
/
Fenix 5
earlier this year, they mirror the same here.
– New External Battery Pack Option: You can now attach a secondary battery pack to the bottom using a locking mechanism.
– Longer battery life: Claimed at up to 20 hours internally, and then you can stack on another 24 hours with the battery pack.
– Trendline popularity routing: When creating routes, it'll leverage all the data from Garmin Connect to find the best cycling routes across road, mountain, and gravel categories, meaning that it's going to leverage where people actually ride.
– Support for Bluetooth Smart sensors: Like the Fenix 5 and FR935, you can now pair to Bluetooth Smart heart rate straps, speed, cadence, and power meter sensors.
– New Garmin Connect Mobile Course Creator: You'll see improvements here in conjunction with the new Garmin Connect Mobile (GCM) that allows route creation more easily from the phone.
– New Garmin Connect Mobile Workout Creator: As part of the new GCM release, you can now create structured workouts on the phone (finally!).
– Rider to Rider Messaging: You can send/receive canned messages to other Edge 1030 users in your friends list.
– Real-time Strava Segment listings: The unit will now use your phone to show you actual Strava segments nearby as you ride along (not just pre-loaded ones), along with real-time data on those segments.
– New Strava Routes Connect IQ App (pre-loaded): This app allows you to pull your saved Strava Routes directly to your Edge 1030 (this will be released for all Edge Connect IQ compatible units).
– TrainingPeaks & Best Bike Split Connect IQ apps pre-loaded: These will automatically be on your unit to begin with. Simple as that.